Print me
Introduction
During the lockdown for various reasons I started a bit of a chutney and preserve mania that has carried on since. Not long ago I was thinking about the mincemeat recipe I use (Aunty Plug's Mincemeat) and thinking that with some fiddling of quantities and adding some vinegar it could make a good chutney. And it does.
There isn't any actual "pie" element to the chutney, but "mincemeat chutney" sounds unpleasant in a way that meant the more accurate name was needed.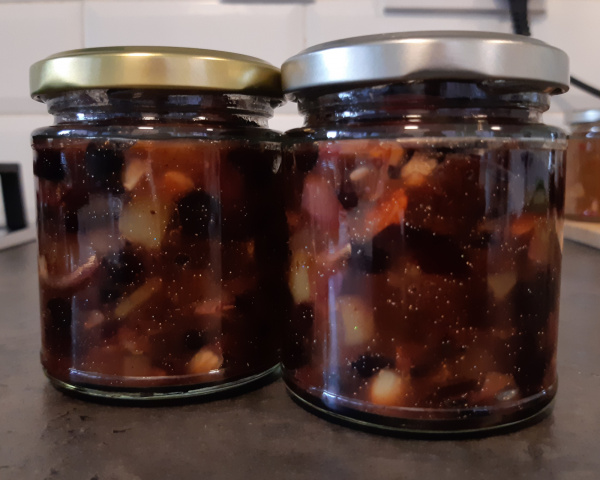 2 eating apples (cored and diced)
200 grams grapes (diced)
50 grams sultanas
100 grams currants
50 grams dried cranberries
50 grams almonds (chopped)
50 grams soft light brown sugar
1 cinnamon stick
1 star anise
6 whole cloves
1 teaspoon salt
1 teaspoon ground ginger
nutmeg
100 millilitres cider vinegar
1 lemon (zest and juice)
1 lime (zest and juice)
1 orange (zest and juice)
Method
Mince Pie Chutney is a community recipe submitted by Bevis and has not been tested by Nigella.com so we are not able to answer questions regarding this recipe.
Core (but don't peel) and dice the apples (Braeburn or similar), dice the grapes and chop the almonds so they are roughly the same size as the sultanas and cranberries.
Put all ingredients in a large pan and mix. Bring to the boil and then simmer until the liquid is starting to thicken.
Bottle the chutney in sterilised jars. This is a relatively small amount and will likely yield around 4 or 5 100g jars, but that may vary based on the size of the apples.
Allow the chutney to mature in a dark, dry place for at least two weeks, but the longer the better.
Other recipes you might like