More recipes
Recipe search
SPANISH CHORIZO ROAST COD WITH CAPERS AND TOMATOES
A community recipe by

SpanishChorizoConsortium

Not tested or verified by Nigella.com
Print me
Introduction
Fish tastes SO good when it's cooked with Spanish chorizo – the flavours marry perfectly. Try this simple recipe to see for yourself!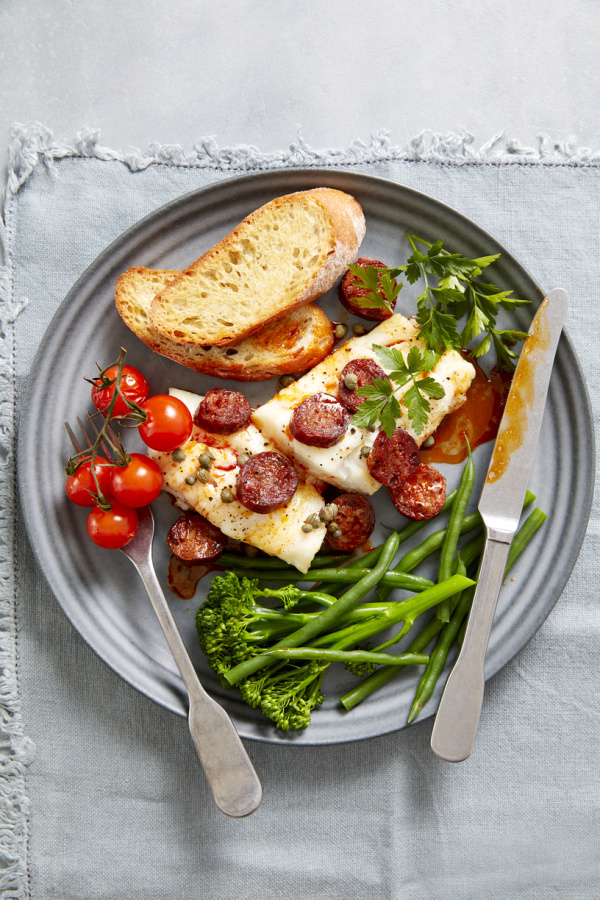 4 cod fillet (weighing about 150g each)
150 grams chorizo labelled with the Consorcio del Chorizo Español seal, sliced
3 tablespoons olive oil
8 slices french bread or ciabatta
1 large garlic (sliced in half)
20 cherry tomatoes
2 tablespoons capers (drained)
2 tablespoons fresh flatleaf parsley (chopped)
salt
freshly ground pepper
Method
SPANISH CHORIZO ROAST COD WITH CAPERS AND TOMATOES is a community recipe submitted by SpanishChorizoConsortium and has not been tested by Nigella.com so we are not able to answer questions regarding this recipe.
Preheat the oven to 180°C/fan oven 160°C/Gas mark 4.
Sprinkle 1 tablespoon olive oil into a roasting tin and add the cod fillets, turning to coat. Scatter the chorizo slices on top. Season with a little salt and black pepper and roast for 3-4 minutes.
Meanwhile, arrange the slices of French bread or ciabatta on a baking sheet and rub with the cut surfaces of the garlic clove. Drizzle with the remaining olive oil.
Arrange the vine tomatoes on top of the fish and add the capers. Roast for 9-10 more minutes. At the same time, bake the bread slices to crisp and brown them. Cook the vegetables in lightly salted boiling water for 4-5 minutes.
Scatter the chopped parsley over the fish and serve with the garlic bruschetta and vegetables.
Cook's tip: Use any white fish you like, such as hake, haddock or halibut.
Other recipes you might like