Print me
Introduction
I love Nigella's Rocky Road. My family and friends love it and it's what I'm most known for making. During January I went vegan for 'Veganuary' which meant I had to adapt Nigella's sacred recipe so that I could still have my favourite treat. I hope Nigella will like this!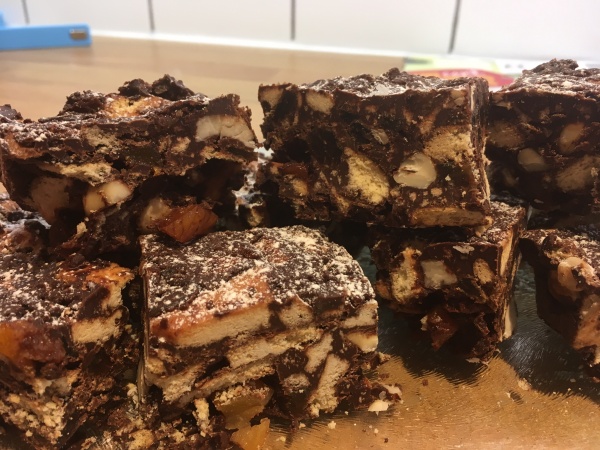 300 grams plain chocolate (vegan)
130 grams vegan margarine (I used pure sunflower spread)
45 grams golden syrup
200 grams rich tea biscuits
125 grams brazil nuts roughly chopped
60 grams dried apricots roughly chopped
60 grams soft dried pitted dates roughly chopped
Method
Vegan Rocky Road is a community recipe submitted by thedancingbaker and has not been tested by Nigella.com so we are not able to answer questions regarding this recipe.
Break the chocolate into small pieces and then melt over a low heat in a saucepan with the vegan margarine and golden syrup. Keep an eye on the mixture or it may burn.
In a seperate bowl, gently bash the biscuits until you have a mixture of smaller and larger shards perfect for a rocky road. Add to this the nuts and dried fruit.
Carefully pour the rich chocolate liquid over the biscuit mix and stir until evenly coated.
Pour the mixture into a pre-lined square dish (approximately 20cm x 20cm). Press the mixture gently down with the back of a spoon. Then put in the fridge to set for at least 2 hours. Overnight is better - if you can wait that long!
Remove from tin, sprinkle with a little sieved icing sugar and cut into 12 pieces with a sharp knife. Enjoy with a cup of tea!
Other recipes you might like