More recipes
Recipe search
Easy Peasy Green Ricotta Pasta
A community recipe by

thesquidinkgazette

Not tested or verified by Nigella.com
Print me
Introduction
When Michael Phelps was training for the Beijing Olympics he ate two pounds of pasta. Per meal. His side dishes were usually a couple of ham and cheese sandwiches or a pizza. Of course he was also burning something like 10,000 calories a day. I'm lucky if I exercise that much in a month and despite my love for Italian food I stayed away from pasta for many years because frankly, who can resist a huge plate of it enticingly slathered in butter, cream or some other decadent goodness? I don't have that kind of self control and envied anyone who did until a lightbulb went off and I realized that the key to guilt-free pasta is to make it at home, creatively using healthier ingredients and controlling portions. As a result I'm constantly experimenting with new ideas for fast, lower calorie recipes that still taste like a treat. Life is so much better now that we eat pasta once or twice a week, though I make just enough for two and when it's gone we tend to regretfully hover of the empty pot bartering over who gets each last drop of sauce. Here's my newest addiction: simple and healthy pasta infused with bright taste, beautiful color and lots of vitamins. Each ingredient will really shine in this dish, so use really fresh greens, whole milk ricotta, and good parmesan.
½ pound wholewheat pasta
2 cups roughly chopped fresh basil
2 cups roughly chopped arugula
½ cup ricotta cheese
½ cup dry white wine
½ lemon zest
1 pinch of salt
1 pinch of pepper
1 pinch of nutmeg
Parmesan cheese (to taste)
Please note that nigella.com is not able to accept responsibility for any substitutions that Ocado may need to make as a result of stock availability or otherwise. For any queries, head to ocado.com/customercare.
Feel free to use the "swap" feature and adjust brands and quantities as needed.
Method
Easy Peasy Green Ricotta Pasta is a community recipe submitted by thesquidinkgazette and has not been tested by Nigella.com so we are not able to answer questions regarding this recipe.
Bring to boil a large pot with plenty of water.
When the water is boiling add some salt and the pasta. Cook according to the label, about 8-9 minutes or until al dente. Stir every once in a while.
While the pasta cooks, in a small bowl mix the ricotta, wine, zest, and salt and pepper. Add the pinch of nutmeg if you like.
When the pasta is al dente, strain and reserve half a cup of the cooking liquid.
Return pasta to the pot and add the reserved cooking liquid. Slowly add the basil and arugula and toss gently, using tongs. The warm pasta will wilt the greens.
When the greens start to wilt, add the ricotta mixture and toss gently.
Additional Information
Serve in bowls with a generous sprinkling of parmesan.
Other recipes you might like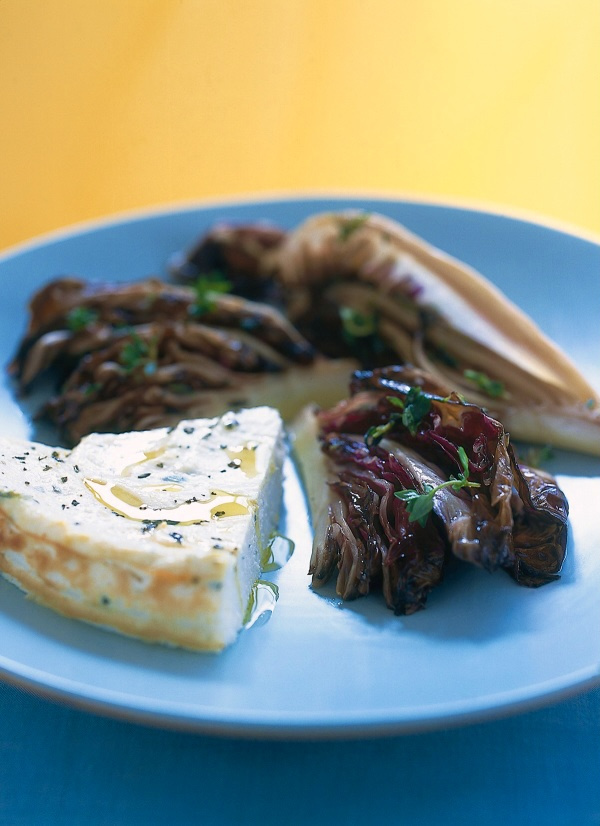 Baked Ricotta With Grilled Radicchio