Print me
Introduction
Sea salt milk chocolate is one of Rococo's signature Artisan bars, and we have built on the collection by introducing this truffle. It is extremely popular, and this is the sought-after recipe. Stir a little freshly ground black pepper into the finished ganache if you are feeling adventurous; it works well.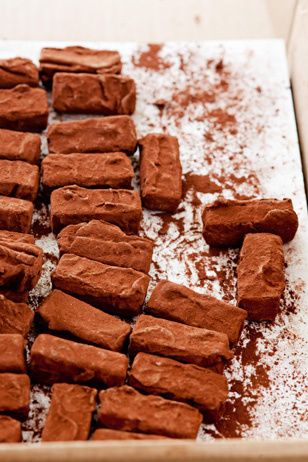 Ingredients
Makes: approximately 60 truffles
280 grams Valrhona Caramelia chocolate (broken into pieces)
20 grams cocoa butter (chopped)
100 millilitres whipping cream
1 pinch of fleur de sel salt (we use Halen Mon from Anglesey)
40 grams liquid glucose or honey
45 grams softened unsalted butter (diced)
500 grams good quality milk or dark chocolate (tempered) for chablon and dipping
lots of cocoa powder (to finish)
Please note that nigella.com is not able to accept responsibility for any substitutions that Ocado may need to make as a result of stock availability or otherwise. For any queries, head to ocado.com/customercare.
Feel free to use the "swap" feature and adjust brands and quantities as needed.
Method
Salted Caramel Truffles is a guest recipe by Chantal Coady so we are not able to answer questions regarding this recipe
Special equipment:
18 x 18cm stainless steel frame
Make a chablon base with the tempered chocolate - lightly grease the surface of a flat tray (minimum 20 x 20cm) with a flavourless oil, cover it with clingfilm and, using a paper towel, push out any visible air bubbles from the centre outwards. Using a pastry brush, paint the tempered chocolate on to the clingfilm, taking it to the edges of the tray so that it leaves a margin for your 18 x 18cm stainless steel frame. Place the frame on top of the chablon before it sets.
Melt the Caramelia chocolate and cocoa butter in a bowl over a bain-marie, and set it aside.
Place the cream, salt and glucose or honey in a small heavy-based saucepan and gently heat until it is almost boiling. Stir about a third of the hot cream into the melted chocolate with a rubber spatula. As the mixture starts to thicken, stir in the next third, and by the addition of the final third you will have a smooth and glossy ganache. Beat the butter into the emulsion, or blend it in with a stick blender, until it has been fully incorporated.
Pour the ganache mixture into the frame set on top of the chablon, spread it out evenly and store it in a cool, dry place (maximum 18ºC) or at room temperature, ideally overnight, to firm up to a butter-like consistency.
Remove the frame and cut the ganache into 3.5cm x 1.5cm rectangles. Dip the rectangles one by one in the tempered chocolate, using a dipping fork. Place them in a rectangular container with enough cocoa powder to bury the truffles. Leave them to set and turn over once as they are setting. After 2-3 minutes, when you can feel they have set, scoop them out into a sieve and shake off the excess cocoa powder.
The truffles will keep well for up to a week if covered in tempered chocolate and kept in a cool, dry place.
Other recipes you might like