Print me
Introduction
Remember, big dishes can be small dishes. This deeply concentrated version of braised oxtails is a lot of heft in a small package. Not only can you make this in advance, but it's actually better if you do. Oxtails can be purchased in most grocery stores, or from ethnic or specialty butchers.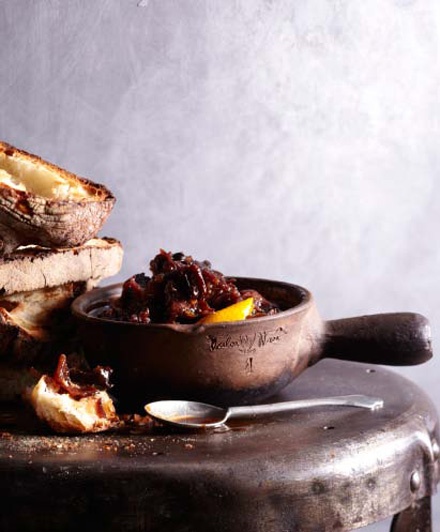 Ingredients
Makes: enough for 6 to 8 people as an appetizer
3 pounds oxtail (cut into 2-inch pieces)
coarse salt
freshly ground pepper
3 tablespoons extra virgin olive oil
1 onion (peeled and diced)
1 large carrot (peeled and diced)
1 large stalk celery (diced)
2 cloves garlic (peeled and minced)
2 cups white wine
3 ounces bittersweet chocolate (roughly chopped)
1 bay leaf
4 juniper berries (crushed)
2 x 5-inch sprigs fresh rosemary
zest of ½ orange (removed in large strips with a vegetable peeler)
1 cup water
1 tablespoon sherry vinegar
1 tablespoon honey
¼ cup golden raisins
¼ cup walnuts (chopped)
Please note that nigella.com is not able to accept responsibility for any substitutions that Ocado may need to make as a result of stock availability or otherwise. For any queries, head to ocado.com/customercare.
Feel free to use the "swap" feature and adjust brands and quantities as needed.
Method
Oxtail Marmalade is a guest recipe by Jody Williams so we are not able to answer questions regarding this recipe
Preheat the oven to 350°F.
Season the oxtail pieces aggressively with salt and pepper on all sides. Heat the olive oil in a large, heavy pot over medium-high heat and sear the oxtails until browned all over, about 5 minutes a side. Transfer the browned oxtails to a plate.
Remove and discard all but 2 tablespoons of fat from the pot.
Add the onion, carrot, celery, and garlic to the remaining fat in the pot and cook, stirring now and again, until the vegetables are just beginning to soften, about 10 minutes. Add the white wine to the pot, increase the heat to high, and bring the mixture to a boil. Cook until the wine has reduced slightly, about 5 minutes. Stir in the chocolate, bay leaf, juniper, rosemary, orange zest, and water to the pot and return the browned oxtails to the mixture.
Cover the pot, transfer to the oven, and braise until the meat is incredibly tender, about 2½ hours. Remove the oxtails from the oven and set aside to cool. When cool enough to handle, remove all of the meat from the bones and set it aside on a plate. Discard the bones as well as the rosemary sprigs, bay leaf, and strips of orange zest.
Set the pot with the cooking liquid and vegetables over high heat and bring it to a boil. Cook until the mixture is wonderfully thick and reduced, about 10 minutes.
Turn off the heat and stir in the reserved oxtail meat, the vinegar, honey, raisins, and walnuts. Season the mixture with salt and pepper. Serve warm on toast.
Other recipes you might like