Print me
Introduction
This is my own creation, my boyfriend and I just love it, but he prefers it with a poached egg on top, I'm not a big egg fan so I haven't put it my recipe. I would love to hear any reviews or variations. Enjoy!
For the Salad
1 cup croutons
¼ cup grated Parmesan
1 baby romaine lettuce
1 handful grape tomatoes
½ sliced Lebanese cucumber
2 chicken thigh fillets
2 rashers bacon (rind removed)
2 teaspoons grated lemon rind
1 clove finely chopped garlic
For the Dressing
¼ cup mayonnaise (whole egg mayonnaise)
1 teaspoon dijon mustard
3 teaspoons warm water
3 teaspoons lemon juice
3 teaspoons worcestershire sauce
salt (to taste)
pepper (to taste)
Method
Caesar Salad is a community recipe submitted by melinda and has not been tested by Nigella.com so we are not able to answer questions regarding this recipe.
Pre-heat oven 180 degrees.
Marinade chicken with lemon rind and garlic, roll up thighs and wrap a bacon rasher around each one, secure with toothpicks.
Bake until chicken is fully cooked. put aside to cool. Slice finely.
Whisk all dressing ingredients together.
Get together croutons, parmesan, lettuce leaves, tomato, cucumber, chicken/bacon and dressing in a bowl, toss, divide into 2 bowls.
Other recipes you might like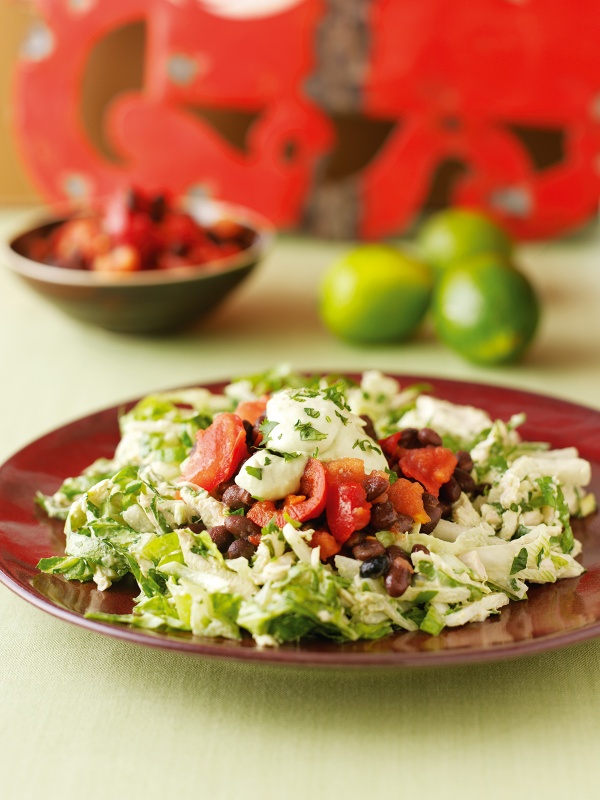 Mexican Chicken or Turkey Salad With Tomato and Black Bean Salsa