Print me
Introduction
This salad makes me want to sing. I love Ceasar Salad. A hit every time i make it. Too busy... then buy some croutons and just make the dressing...still better than ever.
For the Croutons
6 slices thick slices french bread (slightly stale - cut into cubes)
3 tablespoons butter
3 tablespoons olive oil
3 cloves garlic
1 sprig fresh rosemary (or a pinch of dried rosemary)
For the Dressing
3 anchovy fillets
3 cloves garlic
¼ teaspoon sea salt
¼ cup olive oil
½ lemon (juice of)
1 teaspoon dijon mustard
1 teaspoon Worcestershire sauce
1 egg yolk
5 tablespoons grated Parmesan
1 tablespoon capers (drained and crushed)
1 large head of romaine lettuce
freshly ground pepper
Please note that nigella.com is not able to accept responsibility for any substitutions that Ocado may need to make as a result of stock availability or otherwise. For any queries, head to ocado.com/customercare.
Feel free to use the "swap" feature and adjust brands and quantities as needed.
Method
Caesar Salad is a community recipe submitted by sanfranciscogirl and has not been tested by Nigella.com so we are not able to answer questions regarding this recipe.
To prepare the croutons, scatter the bread cubes on a baking sheet and crisp in a preheated 205º oven for 30 minutes.
Heat the butter and olive oil in a skillet. Add the garlic and rosemary and saute for 5 minutes over low heat. Remove the garlic. Increase the heat and saute the bread cubes until brown and crisp. Drain on paper towels.
To prepare the dressing, mince the anchovies, garlic, and salt together on a cutting board until they form a paste. Place the paste in the bottom of a wooden salad bowl
Add the olive oil, lemon juice, mustard, Worcestershire sauce, egg yolk, 3 tablespoons of the grated cheese, and capers. Whisk until well blended.
To prepare the greens, wash and thoroughly dry the leaves. Tear each leaf horizontally across the spine every 3 inches or so. Place the lettuce leaves in the wooden bowl containing the dressing and toss well.
Season generously with freshly ground black pepper, garnish with croutons, and sprinkle the remaining grated cheese on top.
Other recipes you might like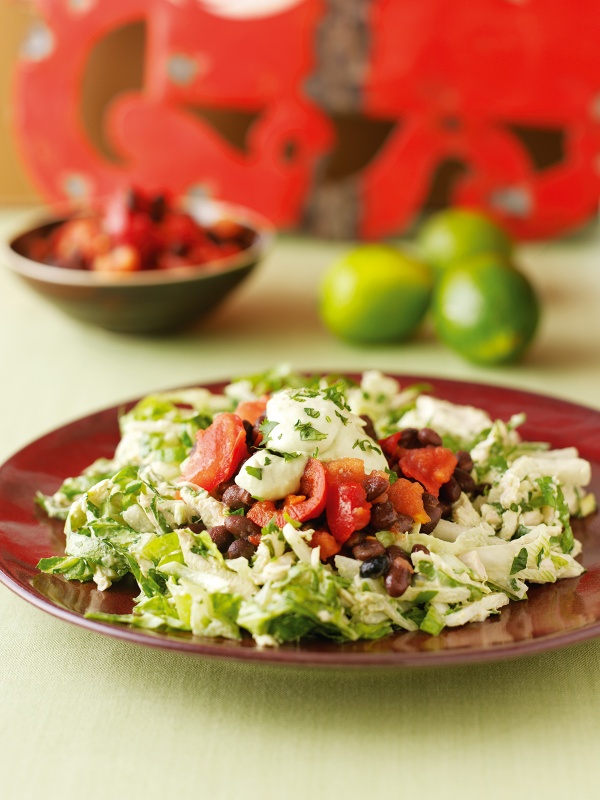 Mexican Chicken or Turkey Salad With Tomato and Black Bean Salsa